Aldershot Sporting hero Russ "Mile Eater" Mantle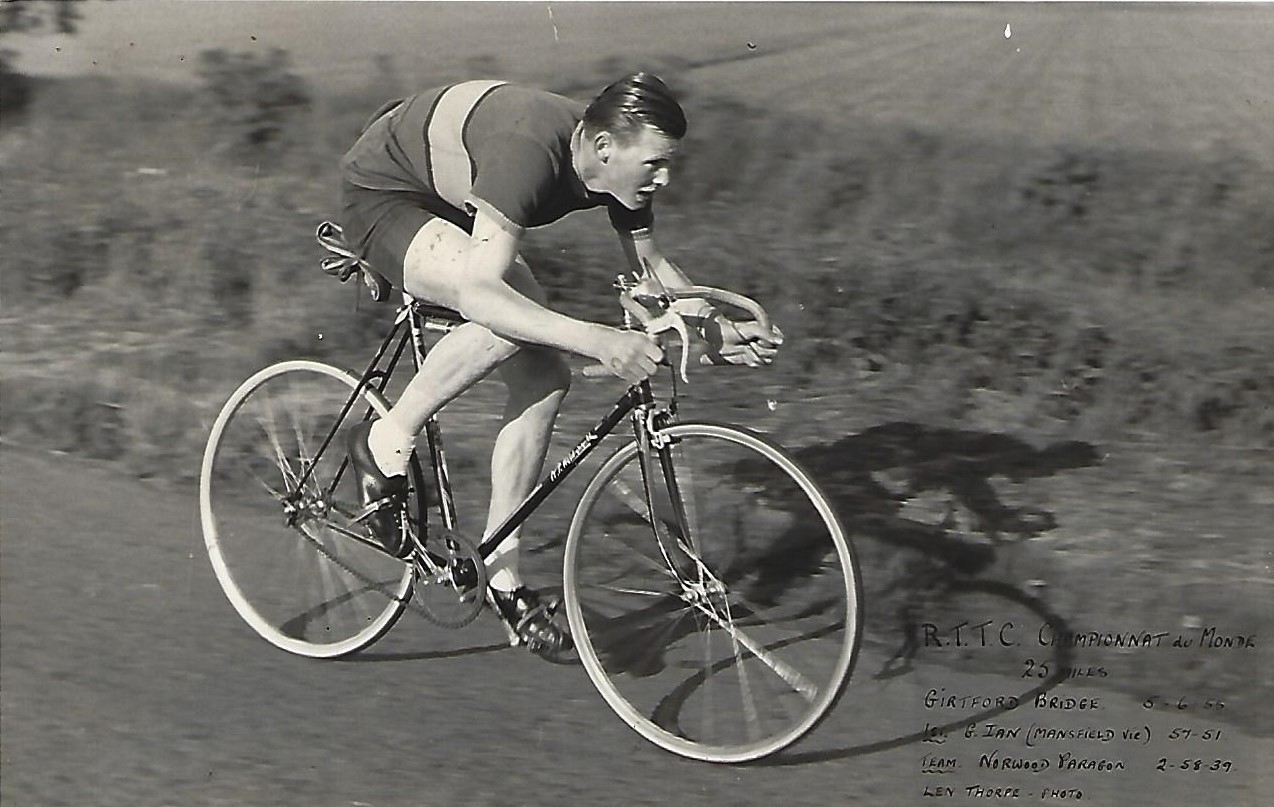 Just before the country went into lockdown Terry Owens, his wife Rak and I had the great pleasure of meeting a true Aldershot sporting hero Russ "Mile Eater" Mantle. We extended an invitation to him to join us in the EBB Lounge for a pre-match meal and to walk out to the centre circle with his bicycle prior to our game against Solihull Moors on 4th April.
I had seen a feature on the local television news at the end of last year and was intrigued to meet the man that had cycled 1 million miles.
Russ lives alone with his cat in Haig Road, Aldershot and he welcomed us into his living room that was packed full of cycling magazines, his meticulous handwritten mileage records and the many stunning photographs adorning the walls.
He started recording his cycling miles in 1952 and by the end of 2019 Russ had amassed over 1 million miles – the first person in the world to have achieved a feat that is the equivalent of travelling to the moon and back twice – or circumnavigating the Earth 40 times.
Russ began racing in 1953 and preferred time trialling on narrow, winding, undulating courses to the hustle and bustle of road or track racing. He competed over a variety of distances and has held many records over the years winning more than 120 medals and umpteen other trophies.
He attended a dozen schools before the age of 14, as his father was in the Royal Engineers. He was a pupil at a total of 8 schools in the UK in Cambridgeshire, Liphook, Dorset, and Aldershot (3 times), and 4 schools in Germany in Brunswick, Hanover, Hamlyn, and Wilhelmshaven on the North German Coast.
Russ completed his National Service in Germany between 1957 and 1959 clocking 16,000 miles racing for his unit and the Army team and winning the Army 100 km road race.
He has worked as a postman in Germany, a technical officer for Crown employment, was employed by the Ministry of Public Building and Works, a Clerk of Works at a property services agency and as a Cutter and Joiner for Lee Brothers in Aldershot for 10 years until he reached the age of 69.
He has always relied on his bicycle to get to and from events and work. There have been very few days over the years when there has not been a ride although Russ did have several bad accidents between 1977 and 1983. He spent three days unconscious in Southampton Hospital and further time on the sidelines after a lorry knocked him into a wall smashing his arm. Three spells of eight weeks out of action and a recurring back problem never dampened his enthusiasm and he eagerly returned to the saddle on each occasion.
He has owned between 10-12 bikes in his time including an Allin, several Holdsworths and two Rotrax bikes. Russ's favourite and best bike is his current Rotrax which he has owned for 10 years. Russ guestimates that he has suffered approximately 6 punctures a year and always made his own wheels when they needed replacing.
Russ has appeared in 6 cycling magazines from Australia to America, was featured in the Farnham Herald but has never appeared in the Aldershot News!
Russ was secretary of West Surrey CTC for 19 years (now known as Cycling UK) and was a member of Farnham Road Club. All the rides are carefully recorded in diaries and he can tell you where he was on any particular day. He often rode 50-100 miles non-stop, leaving early on a Sunday morning to an event and returning the long scenic route to make the ride last all day.
His longest venture was from Aldershot to Monmouthshire and back via Cirencester which was a total of 265 miles. This was closely followed by Aldershot to Weston-Super-Mare which was just 10 miles shorter.
He stopped racing in 1975 after winning his last three races. Russ claimed he couldn't go fast enough anymore and stopped enjoying the competition. He followed no special diet but took lots of glucose tablets during his racing days and has lost 1 and ½ stones in weight since retiring!
He has always enjoyed touring both in the UK and abroad with holidays always taken in hilly or mountainous areas where he could combine his love of cycling, mountain walking, photography, and map-reading. He loved cycling up and down the big Alpine passes and his longest climb is 32 miles all up hill from 2,000 feet at Granada in Southern Spain to the top of the Vic Del Valeta peak at 11,150 feet (taking 4 ¾ hours in hot weather). The most actual height gained in one day's cycling was 13,800 feet in the Italian / Swiss Alps. He has cycled the 9,000 ft pass up with 21 hairpin bends to Alp D'Heuz 3 times including the back-East path route which is even higher. He has toured Yugoslavia, Norway, both the Canadian and American Rockies and the Isle of White countless times. He cycled all the 10 highest peaks in Colorado and reached the top of Mount Evans at 14,127 feet (4,305 m) although Russ points out that he had to dismount and climb a short distance to the top!
Russ proudly showed us examples of his photography skills with wonderful shots taken in the Highlands of Scotland and Isle of Skye including Kilchurn Castle, Ben Lui and Gabbro (where compasses don't work), and Kinlochlevern near Glen Coe The submerged village of Mardale in the Lake District, stunning landscapes of Lulworth Cove, The Valley of the Rocks in Lynton, Dorset and various beauty spots in Ireland. He has an incredible ability to remember the heights of the mountains he has cycled and walked complete with the mileage achieved to get there. He took a camera and tripod with him on his bike to capture the beauty of his trips through the lens.
Russ has owned a Lambretta Scooter and had a car for 37 years – it finished up with only 18,500 miles on the clock with an average of 500 miles a year and a total of just 50 miles between its last 3 MOT's. In comparison, he cycled over 400 miles in one week in May 1989, averaged 14,700 miles a year for 68 years and pedalled a total of 22,550 miles in 2001.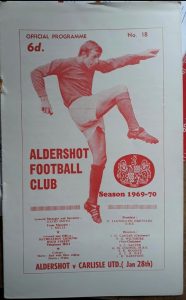 Russ is a big Shots fan and used to watch Aldershot regularly. In years gone by the Club owned houses in the town and rented them out to players. Russ remembers Jack Cropley living opposite him in Haig Road. Cropley played for the Shots between 1947 and 1954 appearing 162 times and scoring 3 goals. One of his favourite memories at the Rec was an FA Cup 4th round replay against Carlisle on 28th January 1970. The evening Kick Off attracted the biggest ever official crowd of 19,138 and followed the 2-2 draw in Cumbria. Although the Shots lost 4-1 they ended the league in sixth spot that season. Russ often cycled to away games to watch the Shots.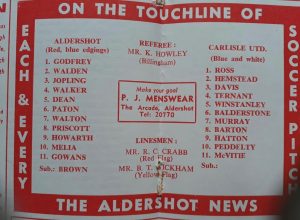 Russ had his bike stolen only once, from outside the Old Post Office in Aldershot in 1951 – the thieves leaving behind the back wheel and saddlebag that contained a library book.
To ensure correct spelling in my article I have googled the place names above and the results are a poignant reminder of our meeting and conversation with Russ. If you have never heard of the place names and have a few spare minutes, take the time to look them up on the internet and you will gain an insight into the some of the Mile Eaters countless adventures.