Alzheimer's Society's Dementia Friends Programme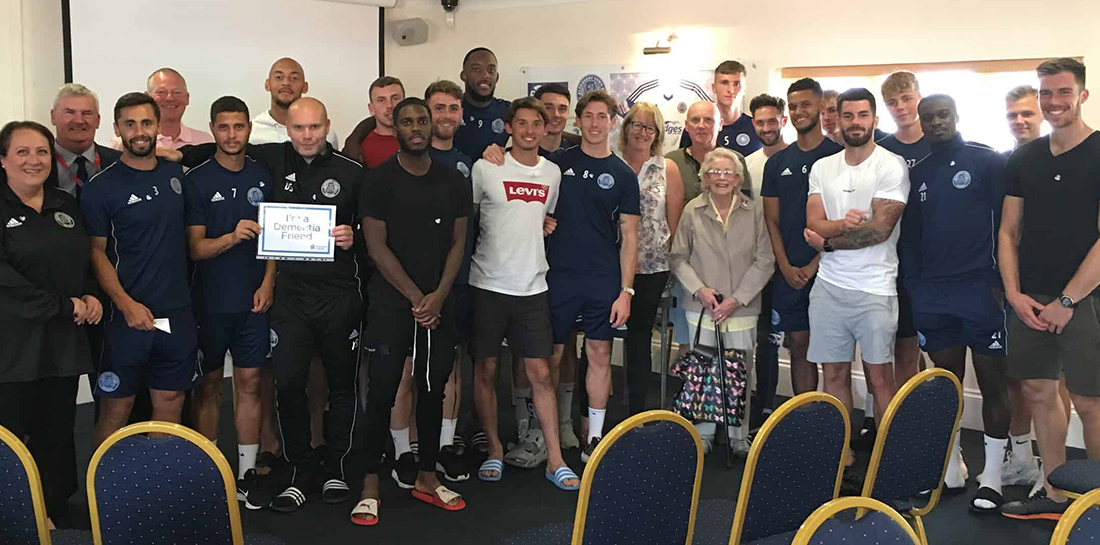 Staff and players at Aldershot Town Football Club showed they not only call the shots on the pitch but are calling the shots when it comes to raising dementia awareness and much needed funds for vital research.
Last September Aldershot Town Football Club nominated Alzheimer's Society as their charity of the month and became Dementia Friends.
Alzheimer's Society's Dementia Friends programme is the UK's biggest ever initiative to change people's perceptions of dementia. It aims to transform the way the nation thinks, acts and talks about the condition. Over 35 staff and players attended a face-to-face information session, learning more about dementia and the small ways they can help. From raising awareness of the Dementia Friends programme to visiting someone they know living with dementia, every action counts.
Jess Hillicks Community Fundraiser for Alzheimer's Society said;
"Dementia touches the lives of millions of people across the UK. Dementia Friends was launched to tackle the stigma and lack of understanding that means many people with the condition experience loneliness and social exclusion.
The younger generation particularly look up to their sporting heroes and it means so much that the staff and team of Aldershot Town Football Club have decided to support Alzheimer's Society this September and have themselves become Dementia Friends."
John Monday, a spokesperson for Aldershot Town Football Club and The Shots Foundation said,
"It was wonderful to have a Dementia Friends session at the EBB Stadium and to raise awareness and funds for Alzheimer's Society this September. With over 850,000 people currently living with dementia in the UK and over 19,500 of them in Hampshire most of us know of someone who is affected. As a club we have direct experience of this through The Shots Foundation (our veteran's hub) and wanted to do something tangible to unite against dementia."
If you would like to find out more about becoming a Dementia Friend please visit https://www.dementiafriends.org.uk/
We had a very special guest from Sunrise Care Homes at our Wrexham match last September. Lisa Baxter the Activities and Volunteers Coordinator at Sunrise of Fleet heard about our Dementia Awareness month and contacted us to ask if we would treat one of her residents to a game at The EBB. We were delighted to organise a visit for lifelong Wrexham fan Brian, his family and carers. Huge thanks to the managers of both teams, Danny Searle and Bryan Hughes for joining Brian and his family for a photograph on the pitch and for presenting him with a signed Wrexham shirt just before kick-off.
Several players and officials from both teams wore blue laces in support of the Alzheimer's Society and we did a bucket collection at both the Barrow and Wrexham fixtures to raise funds to help this wonderful charity. Thank you to everyone that contributed. What struck me more than anything else were the stories and emotions shared by so many of you. I'd like to thank the bucket ladies who helped out over the two days and of course the boys – Joe, Harry and our Vets Hub coordinator Dave.